Welcome to our Lupus Blog
Here you will find a wealth of information on various lupus related topics.  If you have suggestions for blog topics you would like to see covered, please email [email protected] with your ideas.
 We are grateful and delighted to have been nominated by ChronicPainDisorders, Healthline, and Healthlisted as one of the best lupus blogs of 2016!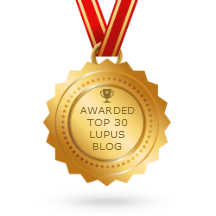 Top 30 Lupus Blogs For People Living With Lupus Disease
About Lupus, Coping With Lupus, Depression, Featured, Gratitude, Life Expectancy, Living with Lupus, Lupus Awareness, Main Blog, Stress
Having a chronic disease like lupus can be difficult, to say the least.  Coming to grips with the reality that lupus is now a thread in the tapestry of your life is scary and extremely overwhelming. ...
Read More
No Results Found