Welcome to our Lupus Blog
Here you will find a wealth of information on various lupus related topics.  If you have suggestions for blog topics you would like to see covered, please email [email protected] with your ideas.
 We are grateful and delighted to have been nominated by ChronicPainDisorders, Healthline, and Healthlisted as one of the best lupus blogs of 2016!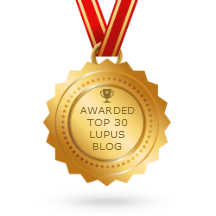 Top 30 Lupus Blogs For People Living With Lupus Disease
About Lupus, Featured, General Information, Living with Lupus, Lupus Flare, Main Blog, Photosensitivity, Symptoms
Contents: What is lupus? What is a lupus flare and how do I recognize one? So how is a lupus flare recognized? What can trigger a lupus flare? Can anything prevent a lupus flare? What is lupus?...
Read More
Serving Up Style, HGTV Design Star, Gala, Auction, Volunteer Opportunities and more! http://us6.campaign-archive2.com/?u=dc5c215f9d5740b5565327451&id=b37de87eff&e=...
Read More